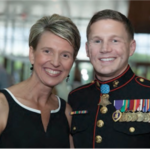 Certainly some of them are more exciting than others, but everyone has a story. I'll never forget interviewing a career insurance agent who was also an army reservist and hearing about his intense experience being deployed to Afghanistan and having to work on cases of sexual assault within the army. The story never ran because the client changed its mind, but I offered to help him write a book about what he went through because it was so surprising and fascinating. Part of what I love about interviewing people is learning about everything I don't know. You only get one life, and no matter how interesting it is, other people's lives are bound to be different.
Since then, through my work with the Navy-Marine Corps Relief Society, I've had the privilege of interviewing dozens of combat-injured Sailors and Marines, visiting nurses who help them navigate the transition back to civilian life when they are fundamentally changed human beings, and volunteers and employees who run the Society and help active duty and retired Sailors and Marines and their families through tough times. I've interviewed a Marine who was tired of having to explode things on demolition duty in Iraq and decided to take the SATs so he could return home after his deployment and become a physics teacher. I interviewed a nurse who developed a radically compassionate way of working with patients struggling with mental illness. I've talked to Sailors and Marines of all ages and backgrounds who will forever be grateful to the Society for helping them travel to the bedside of a dying family member when they were far from home. I interviewed the mother and the nurse of a Medal of Honor recipient who came back from critical condition to begin a life motivating others to serve. I've talked to runners in the Marine Corps Marathon who are running in honor or in memory of Marines in their families or to begin or conclude their own careers as Marines. I interviewed a Sailor who connected his hobby of knitting baby blankets for new military babies to the maritime tradition of tying knots.
Sometimes the people I talked to feel grateful to have followed their childhood dreams and look back with satisfaction on fulfilling careers. For others, things didn't go quite the way they planned, but they turned out fine. And other people were just surviving, hanging on to hope for the future in the wake of overwhelming obstacles.
Occasionally people I am asked to interview say they don't feel comfortable talking about themselves, or they don't have anything worthwhile to say. But they almost always open up, and when they do, they reveal something valuable about themselves or their work, and I am able to help tell their stories.
Are you ready to tell your story? I can help.