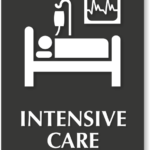 In New Orleans in the late 80s next to Tulane Medical Center were the Veterans Administration hospital and the charity hospital. The person I interviewed this morning said she would often take the bus to Tulane where her mother worked and see patients and would-be patients with a wide variety of injuries and ailments on the sidewalk outside the hospitals, seeking medical care and usually other kinds of help as well. The need was vast, she observed. "It was utter chaos," she said.
One day when she was a senior in high school, a friend she knew from her afterschool job was in an accident and was admitted to the intensive care unit at the charity hospital. She went to visit and was appalled by the patients lining the halls, the hospital overrun with sick people. Suddenly as she buzzed for admittance to the ICU, she was stunned by the angelic appearance of the nurse who welcomed her in, gently but frankly explained about the condition of her friend who she had come to visit, and guided her to his room. "I knew right then that I wanted to be a nurse," she told me.
Two decades later, she carried with her a wealth of experience as a nurse, including time as an active duty Naval officer and a stint helping transition newly injured Sailors and Marines into stateside hospitals when they were medavaced from the front lines, to her work as a visiting nurse for the Navy-Marine Corps Relief Society.
She told me about the challenges of working with combat injured veterans and service members when their loved ones–usually wives, girlfriends (sometimes ex-girlfriends), mothers (or mothers-in-law) say they're trying to help their Sailor or Marine recover, but actually they are just getting in the way, whether with misguided but good intentions, or an unconscious desire to keep control of a difficult situation.
This nurse talked with me for a long time–about three times as long as my typical interviews last. She had a lot to say about a career that had been extraordinarily intense and ultimately satisfying but not without more than a few bumps in the road. Near the end of our conversation she shared a recent success. One family whose service member had been rendered virtually mute by a wife, mother, and mother-in-law who were outdoing each other to try to care for him, but in the process not allowing him to speak for himself or obtain any measure of independence. Our tenacious nurse thought the situation was all but hopeless, until she laid out the situation in stark terms for the service member, his family, and his entire care team to see in black and white. The next time she visited her client, he spoke up for himself loud and clear, and firmly told his wife to let him answer his own questions. The couple had established boundaries with their extended family and plans for the future. Telling the hard truth about a difficult situation had been the catalyst necessary for this service member to truly begin the road to independence and recovery.
Hearing these stories can be hard, but I know living them is exponentially harder. If I can tell the truth–to lay it all out in black and white–to give voice to people whose voices may be muffled or muted, than what I'm doing is worthwhile. To be entrusted with listening to people's stories, and then finding new ways to tell them to the world is a privilege.